FAST Pass Denials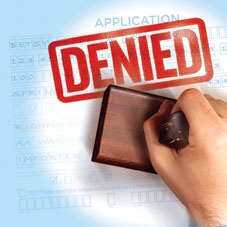 The FAST,Trusted Traveler programs are part of an initiative of U.S. Customs and Border Protection to allow trusted low risk passengers to expedite Customs and Immigration when crossing the US border. If you have a criminal record or violation of Customs and Immigration laws, policies or regulations, you may be denied from the program; the FAST, NEXUS and SENTRI programs in particular have strict selection criteria.
Once your application has been submitted to U.S. Customs and Border Protection it will be checked against their own database and sent on to various other government agencies responsible for law enforcement, customs, immigration, agriculture, and anti –terrorist activities. These agencies notify U.S. Customs and Border Protection of any violations that you may have committed. Violations could include DUI charges, bringing forbidden goods or merchandise across the border or illegal immigration to name but a few. The check is extremely thorough and looks at your whole past rather than the last 5 years.
All applicants who pass the first stage of checks are asked to attend a compulsory interview at one of the CBP enrollment centers. At the Trusted Traveler interview, you will also be asked to provide biometric data such as your finger prints, a digital photo and in the case of NEXUS air travel, an iris scan. Trusted Support process many applicants with past violations; some of them got approved right away; others got denied and objected to the denial with the Ombudsman asking for a review of their application. Applicants who have received a waiver and / or pardon for previous convictions are usually approved at this stage. There is always a risk. It's up to you to decide if you want to take the risk. If you apply with Trusted Support Services we'll make sure that your Trusted Traveler application is properly filled and all requirements are met. If your NEXUS, SENTRI, FAST or Global Entry application is denied or revoked from the Trusted Traveler program, U.S. Customs and Border Protection will inform you of the reason for this action in a letter. If you want to appeal the decision and can provide additional information to support your case like a pardon or if you can show that your denial or revocation was based on erroneous information, you can contact your nearest Enrollment Center and schedule a meeting with a supervisor to present the evidence and discuss your case. You can also write to the CBP Trusted Traveler Ombudsman at the address below:
US Customs and Border Protection
P.O. Box 946
Williston, VT 05495
Attention: CBP Ombudsman
If the Ombudsman agrees to your appeal they will alter your status within your Trusted Traveler online account – it is vital that you monitor the status of this account at all times once Trusted Support Services have provided you with the online pass information. You may be denied from a program if you failed to schedule an interview within the required 30 day period or if you have not been resident in one of the qualifying countries for 3 years prior to your application. You may reapply for the program after a period of 90 days from your denial. You must pay all of the relevant fees with you reapplication.